Pictured in Crystal White & Sparkly Grey
Michigan
The Michigan incorporates Aurora's LED-X flame effect technology. With its clean lines and classic pallet it provides a timeless focus, which adds understated elegance to any home. With two choices of a brushed steel or Obsidian black trim and fret.
The Michigan is also operated by the remote control which has the capabilities of a 7 day programmable timer, open door/window detection and adjustable thermostat.
The Michigan is available in:
48"

With the following rebate options:
1"

The Michigan is available in:
Crystal White with Sparkly Grey

To find out more about our materials please click here
Specifications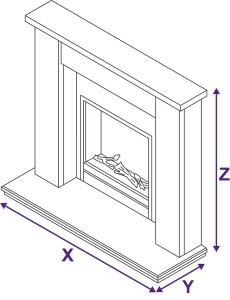 PLEASE NOTE
All products are made to a tollerance of +/- 3mm. Therefore actual dimensions may vary slightly from those shown.
Fixings
Metal fixing brackets on body
Anti-topple' straps
Requirements
Wall plugs/fixings suitable for installation location
Mastic marble filler for stone or other suitable marble adhesive
Heat Settings
1 & 2 kW with effect only option
Find A Showroom
Head to a store near you, and experience Aurora Marble For Yourself
For an up to date quote or a personalised demonstration of your favourite fireplace, surround or fire. Head to an official Aurora Showroom who will be able to provide a seamless service from ordering through to instalation.